What exactly is the difference between Italian cured meats essential in recipes such as Spaghetti alla Carbonara or Risotto al Radicchio e Speck?   Can you just substitute good old American bacon? The answer: no – not if you want to maintain the authenticity of the dish. Can you find these items if you don't live near a bustling Italian-American community? The answer: yes – happily the Internet will connect you to countless sources for these products.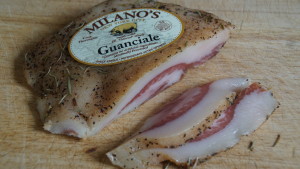 Guanciale is pork jowl – cheek – that has been short-cured with salt, sugar and a mixture of spices. It was traditionally a product of Lazio and Umbria but it can be found throughout Italy now. Guanciale's texture is more delicate than pancetta and the flavor more powerful. The ratio of fat to meat in guanciale makes it a pleasing base for pasta sauces; the slowly rendered fat imparts a velvety texture and the more intense meat flavor stands up to other strong ingredients. Guanciale is the base ingredient for dishes like Spaghetti alla Carbonara and, most famously, in Bucatini all'amatriciana. You can find it rolled and slab form – slab is a little easier to handle for cooking.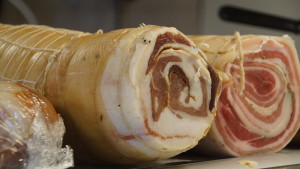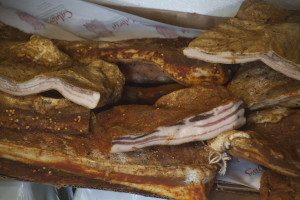 Pancetta is made from the belly of the pork like bacon; but, unlike bacon, pancetta is not smoked. Pancetta, like guanciale, is curried with a combination of salt and spices and can be found in two forms – rolled and slab.

Thin slices of the rolled pancetta are used to wrap vegetables and scallops or enjoyed on crusty bread with a slice of pecorino cheese; slab pancetta is good for chopping and using in sauces. Because pancetta is cured and not smoked, it is commonly substituted for guanciale in recipes.
Prosciutto is typically made from the hind leg of the pig (or wild boar) but it can also be made from other animals. The meat is salted and cured for several months, then carefully pressed, washed and hung to dry slowly in a cool environment. While traditionally a specialty from central and northern Italy, there are now many styles available from both domestic and international sources. The most famous traditional versions are prosciutto crudo di Parma and prosciutto crudo de San Daniele.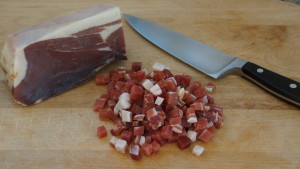 Speck is made from the same cut as prosciutto and is cured like prosciutto but then it is lightly smoked. Speck is a specialty from the Alto Adige region of Italy located at the foot of the Dolomites. In this region, the northern European tradition of smoking meat meets the Mediterranean tradition of dry curing. Speck has a higher ratio of meat to fat and, because it alternates between smoking and fresh air, it is more subtly flavored. Speck PGI (Protected Geographical Indication) is produced according to strict guidelines controlling meat quality, curing and smoking. Traditionally sliced thinly and served with bread and wine, speck is also a wonderful addition to pasta and rice dishes as well as to salads. Sometimes it is referred to as smoked prosciutto.