I had a revelation in college about shortbread. Until then, I had been innocently treating myself to the store-bought Walkers version, a reward for adhering to a healthy diet of moderation. My enlightenment came as a freshman when a dorm-mate named Lorna received a tin of shortbread from her Scottish-born mother and she called us all in to share.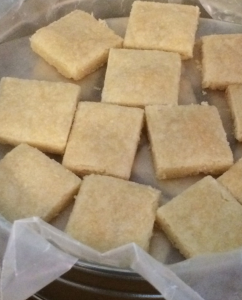 Lorna smiled and her eyes sparkled, confident of the tin's contents. She opened it carefully to revealing layers of small sugar-dusted squares packed between layers of wax paper. She rationed us one small square at a time. I was stunned by both the flavor and the texture. I immediately understood Lorna's reserve. The light flaky texture of the shortbread, rich buttery flavor and crunchy bits of sugar dissolved delightfully in the mouth – one could have easily downed the entire the tin.
Years after graduating, I randomly came across a recipe for Royal Scotch Shortbread by Molly O'Neill in the New York Times Sunday Magazine. Instantly, my mouth yearned for those delightful little squares. Could it be I wondered? I ripped the article from the magazine, gathered together the few simple ingredients and followed the recipe's instruction, adding a sprinkle of sugar before baking. And, the answer was yes – they were every bit as wonderful as I hoped and remembered and astoundingly simple to make.
I have now been making shortbread for over 25 years, cutting them in small squares like Lorna's mother did and delivering them to friends with Lorna's same sparkling confidence. It is a delightful memory I enjoy paying forward.
WHY IS IT CALLED SHORTBREAD?
Shortbread is so named for its texture, which is crumbly and that is the result of the large ratio of butter to flour and butter. Short is an old English term for "crumbly." Shortbread evolved from medieval
biscuit bread – twice baked bread that was spiced and sweetened.
Yeast was replaced by butter somewhere around the 16th century, possibly influenced by French cuisine in the Scottish court – the mother of Mary Queen of Scots was from the powerful French Lorraine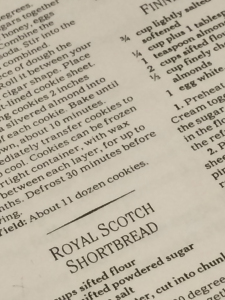 House of Guise. Classic Shortbread is made from three ingredients – flour, sugar and butter.
Traditionally, the shortbread is made in one of three shapes: petticoat tails where the dough is formed into a round, cut into pie shaped sections and the edge decorated resembling a lady's petticoat; simple small rounds cut from the dough; or "fingers " where the dough is shaped in a rectangle and cut in strips along the short side.
Originally an expensive treat enjoyed at holidays, shortbread now comes in all shapes, sizes and flavors.
Get the Recipe