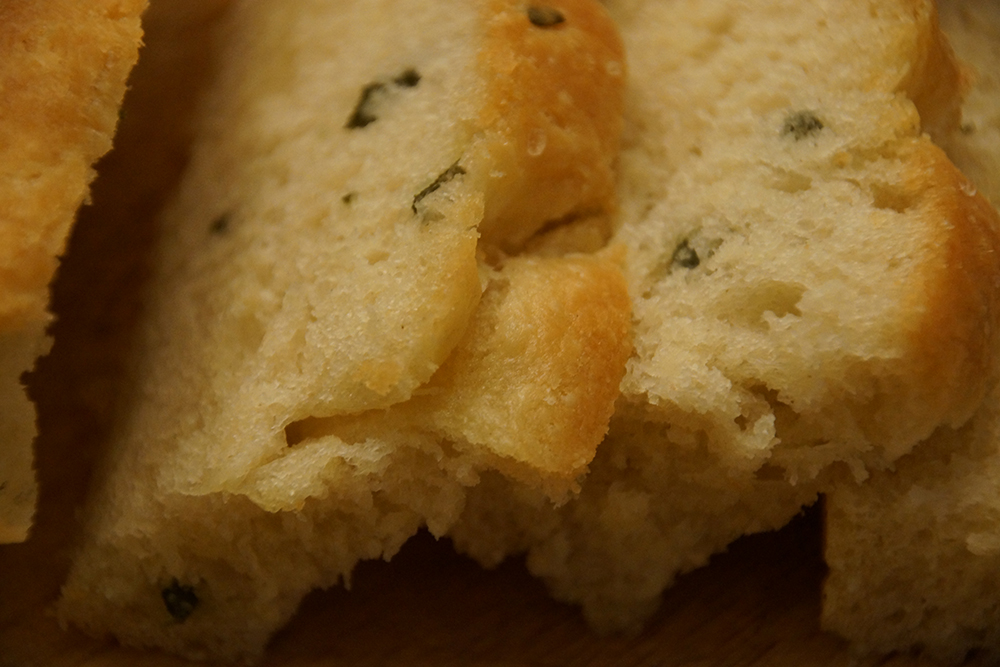 Focaccia
Focaccia comes in so any different forms. I like it light and fluffy, a little chewy, and 1 ½ inches thick with a delicate, crunchy edge and seasoned with fresh sage or rosemary. This recipe makes two 8-inch rounds or squares; I always make two…one to enjoy and one to freeze for pulling out when I haven't got the time to allow the dough to rise. I use light olive oil to make the bread dough and extra virgin to brush and flavor the crust.
Ingredients
4 cups unbleached white flour
1 teaspoon salt
2 packages active dry yeast
1 ½-2 cups warm water
¾ teaspoon sugar
½ cup light olive oil
2 tablespoons chopped fresh sage or rosemary
Extra Virgin olive oil
Sea Salt
Instructions
Pour ½ cup warm water into a small bowl, add contents of the yeast packages and ¾ teaspoon of sugar to the water and stir to combine. Allow the yeast to bloom about 10 minutes.
Chop the herbs and add to ½ cup light olive oil, stir to combine.
Place flour and salt in a large bowl and set aside.
When the yeast has activated – it will foam and formed a small dome in the bowl – add the yeast mixture, the herbed oil and the remaining 1 cup of warm water to the flour and mix with a spatula. The dough should be sticky but come together; add water in small amounts if it seems dry or too firm. NOTE: I used to use the mixer with the dough hook to make the bread but find I prefer the texture of the wet, hand-stirred dough.
Place dough in a large glass bowl that has been greased with olive oil to prevent sticking. Roll the dough over to make sure the whole surface has been oiled. Cover with a damp towel and allow dough to rise for one hour.
When the dough has doubled in size, punch down the center and place on floured surface. Kneed the dough briefly and then divide in two.
Preheat oven to 425°.
Grease two 8-inch round or square baking pans with olive oil. Add dough to each and using the tips of your fingers press the dough from the center out until it is the size of the pan. Cover with damp towel and allow them to rise another 30 minutes.
After 30 minutes the dough should puff up nicely. Pour about two tablespoons of light olive oil on each and gently cover the surface. Sprinkle with sea salt and, using two fingers, press even indentations into the dough.
Bake loaves for 35-45 minutes until they have formed a dark golden crust.
Remove focaccia, allow it to rest 5 minutes and then remove from the pans. Brush loaves with extra virgin oil on top, bottom and sides.