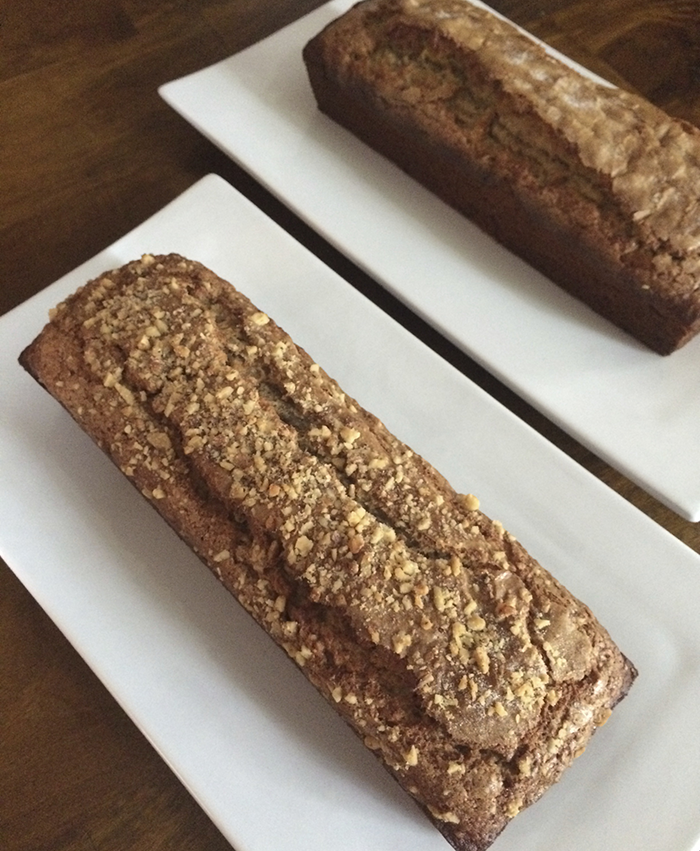 To ensure the banana bread is extra moist, allow your bananas to really over-ripen. I usually let mine ripen to the point where the skins are completely black and the fruit inside is extremely soft, almost syrupy. I like nuts – given all the crazy allergies these days, I usually leave them out, but toasted and ground nuts do add a nice texture.
Ingredients
1 ½ cups Mashed Bananas (about 3-3 ½ large bananas)
2 Eggs
1 cup Sugar
½ cup canola oil
2 cups Flour
1 ½ teaspoons Baking Powder
½ teaspoon Baking Soda
½ teaspoon Cinnamon
¼ teaspoon All Spice
1 cup walnuts toasted at 350°and then ground
Instructions
Pre-heat oven to 350°
Mash Bananas and set aside.
Hand-beat the Eggs and combine with Sugar and Oil – beat until blended and set aside.
Combine dry ingredients in large enough bowl to add other ingredients.
Add 1 & 2 to 3 and using a spatula gentled fold the ingredients together until blended.
Pour into prepared pan and sprinkle the top with a sugar to taste. (1-2 tablespoons).
Bake mid-oven for 30-40 minutes until center top springs back to the touch.
Cool 10 minutes then slide knife around the edges, invert and remove wax paper. Cool completely.
Enjoy.
Loaf Pan* greased (I use butter) and the bottom lined with wax/parchment paper
*Loaf Pan: 12"l x4.6"w x3"d – I prefer the Kaiser pan at this dimension versus a shorter, fatter loaf pan. The bread cooks quickly and evenly in this pan; in shorter pans the edges can get dried out waiting for the center to cook through.