My New Jersey kitchen fills with the aroma of artichokes simmering in garlic and rosemary. Inhaling the aroma, I am transported to Rome where I am dining in a restaurant tucked into an ancient alley and am gazing down at my friend's plate of spaghetti alla carbonara.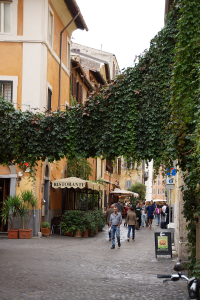 "I only order carbonara in Italy," comments Jane – she's my traveling companion and an Italian culture/cuisine
enthusiast. We are sitting in a lovely little trattoria in the quaint Trastevere neighborhood of Rome and I am coveting her meal. She offers a taste and understandably not more. I am doubly struck – first, by the relaxed, light, rich and silky smooth sauce kissing the pasta and, second, by the realization that I need to reassess my textural understanding of al dente! We order the dish several more times over the course of our ten-day trip in Italy delighting in the sauce over bucatini (perciatelli), rigatoni and even penne. Whatever the pasta shape, we are never disappointed.
Back in the States, Jane's passing comment returns to me routinely as this ever-optimistic dinner, hoping to be transported back to Rome, stares down at another miserable carbonara dish failing to do justice to its name – overcooked pasta drowning in a pool of runny, bland cream.
What is the problem? Why is carbonara, cooked to al dente perfection, so hard to come by on this side of the ocean? During the process of researching and experimenting with this dish, I discovered how easy it is for even an accomplished cook to produce a miserable execution. But, with a little practice it soon becomes a weeknight regular – the ingredients are almost always on hand and, accompanied by a simple side salad, Spaghetti Carbonara a satisfying finish to any day.
Sometimes researching the origins of a dish inform your own interpretation, but the origin of spaghetti alla carbonara is dubious – maybe it was inspired by a simple coal workers meal, maybe it was conceived by American GI's during the post WWII occupation or maybe the dish's roots are actually Neapolitan rather than Roman. What is not disputed is an expected offering at the trattoria of Rome much like escargot or oeufs mayonnaise at a Parisian Brasserie.
A true carbonara, like a true alfredo sauce, contains no cream. The pasta's silky coating is the result of just-cooked eggs, rendered fat, dissolved cheeses and black pepper – achieving the effect takes focus and some practice. Too much heat and the eggs scramble, too much egg and the sauce remain soupy. The dish really pops when spiked with plenty of freshly cracked black pepper and is traditionally made with guanciale or pancetta, both of which are cured versus smoked meats.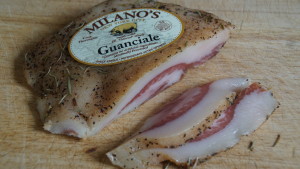 Guanciale – not easy to say and not easy to find! It's pork jowl (cheek) that has been short-cured with salt, sugar and a mixture of spices and it can be found at artisanal butchers and online from Italian specialty stores. The texture of guanciale is more delicate than pancetta and its flavor more powerful. The ratio of fat to meat in guanciale makes it a pleasing base for pasta sauces; heating the meat slowly renders the fat imparting a velvety texture and the more intense meat flavor of guanciale stands up to the egg and the cheese.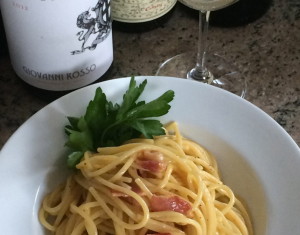 Determined to perfect my own version, I enlisted my girls to sample renditions of the dish and they ate Carbonara routinely until we found our favorite. We hunted down guanciale for an authentic take on the dish and try versions with the milder pancetta as well as with more readily available American bacon. We tried whole eggs and a combination of whole eggs and egg yolks, we tried a little more cheese and a little less cheese and experiment with varying levels of cracked pepper until finalizing the perfect ratio of ingredients. In the end, my family voted for the more familiar flavor of smoked American bacon (nitrate free, naturally); bacon is almost always in our refrigerator, so our take on authentic Carbonara is happily only minutes away from a craving. We are waiting to present it to Jane, but we may sneak in guanciale on that day.
Read more about my friend Jane's adventures in Italy and further afield at auntjaneinitaly.com.