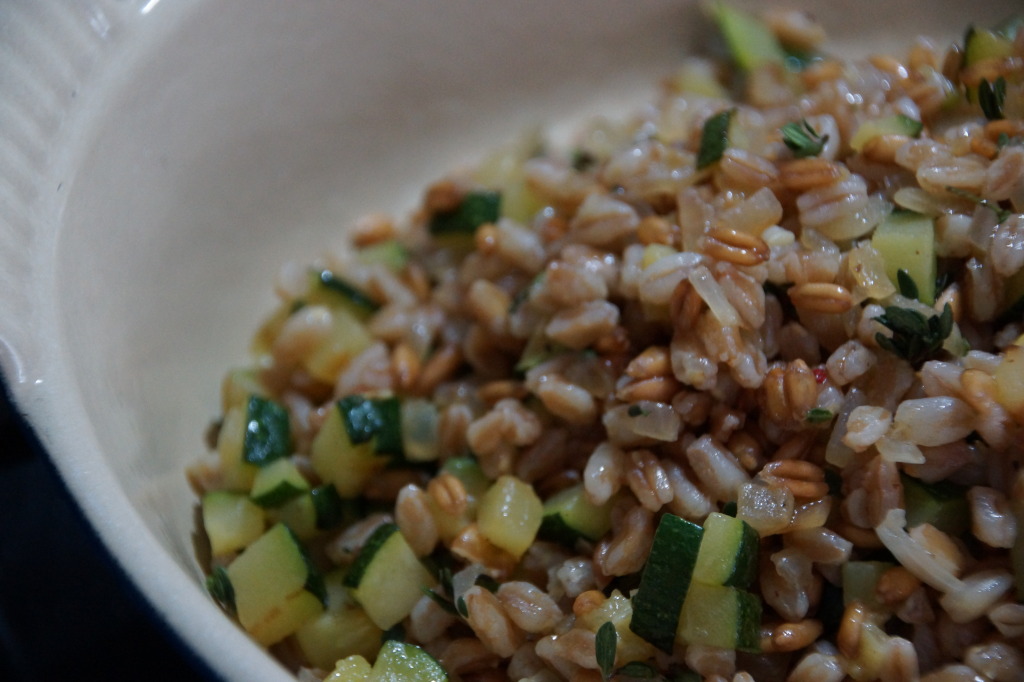 ---
WINE PAIRING
Enjoy this dish with white wine with a touch of sweetness or lighter style red wine — Chenin Blanc, Pinot Gris – even Kabinett Riesling – or Gamay Noir (better known as Beaujolais) are good choices.
---
Farro & Freekeh with Onion, Zucchini and Thyme
This mixture of Freekeh and Farro is an excellent wholegrain side dish that is lovely with fish and chicken. An off-dry wine such as an Alsatian Pinot Gris or the licorice quality of an Italian Pecorino pairs nicely with caramelized onion and zucchini. Ingredients
½ cup Farro
½ cup Freekkeh
3 Cups chicken or vegetable broth
Olive Oil
2 tablespoons unsalted butter
2 cups diced sweet onion
2 cups diced zucchini
1/3 cup white wine
2 tablespoons fresh thyme
Sea salt
Cracked mixed pepper (green, black and pink peppercorns)
Extra virgin olive oil
Instructions
Cook the Farro and the Freekeh separately in a 50:50 broth and water mixture and until tender but still chewy – about 20 minutes for the Farro and 40 minutes for the Freekeh. Drain and set aside.
In a large sauté pan melt butter and enough oil to coat the surface of the pan.
Add the onion and sauté at low heat about 4 minutes until translucent.
Add zucchini, increase heat slightly and sauté on medium heat about 5 minutes allowing the vegetables to brown slightly.
Increase heat, add wine and cook down for 1 minute.
Add Farro and Freekeh, stir to combine and moisten with broth.
Add fresh thyme and season with salt and pepper to taste.
Remove to a serving dish and drizzle with EVO.
3.2.2807
Author: Anne Press
Prep time: 10 mins
Cook time: 45 mins
Total time: 55 mins