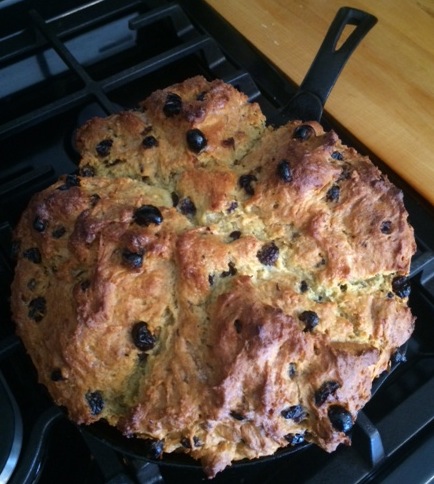 Baked in a cast iron skillet, this soda bread is like a giant scone – the flavor is truly rich and like nothing else. On the first day, the crust melts in the mouth, the caraway seeds perfume the dense, fluffy texture of the scone-like bread and the juicy raisins punctuate every bite. My mother likes to cut a fat wedge on the second day and toast it – carefully extracting the crunchy goodness from the toaster. You should allow the soda bread to cool about 40 minutes to make it easier to slice (definitely use a serrated knife).
Ingredients
1½ cups black raisins
2 tablespoons all purpose flour
4 cups all purpose flour
2 teaspoons baking soda
4 teaspoons baking powder
1 teaspoon salt
⅔ cup shortening
2 teaspoons caraway seeds
3 eggs (large)
2 cups buttermilk (light is fine)
¼ cup melted unsalted butter
9" cast iron chef's skillet or 12" loaf pan rubbed with melted butter
Instructions
Boil enough water to cover the raisins; once boiling, remove the pan from the heat and add the raisins. Allow them sit for up to 5 minutes and then drain the raisins. Place the 2 tablespoons of flour in a bowl and toss the raisins in the flour – set aside.
In a large mixing bowl, stir together the flour, baking soda, baking powder and salt. Add the shortening to the dry ingredients and using a fork cut in the shortening until small beads form. Add the caraway seed and stir.
Lightly beat the eggs and the buttermilk and stir to combine - add into to the dry ingredients along with the flour-covered raisins. Mix gently to thoroughly combine – it will be sticky. If baking in the skillet, use a knife to cut a cross in the top creating four sections and ensuring even cooking.
Bake about 1 hour – until cake tester comes out clean and top is well browned. Remove from oven and brush on half the melted butter with a pastry brush. Cool 10 minutes. Unmold the loaf and brush the bottom with the remaining butter. Cool at least 30 minutes before slicing.