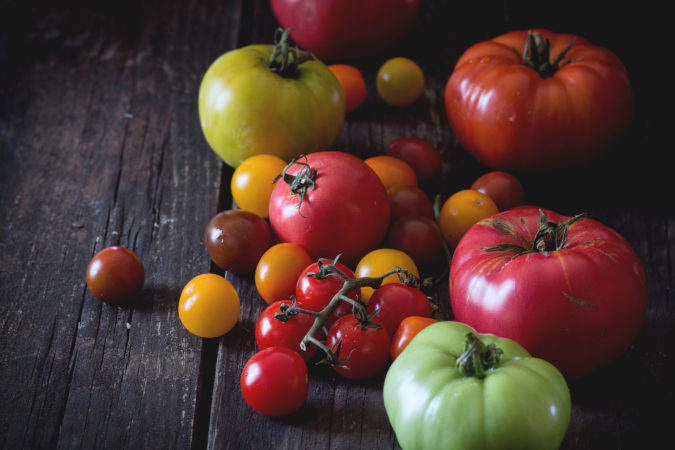 Tomatoes are at their absolute best as summer comes to a close.  Farmers markets burst with all colors, shapes and sizes.  But, pairing wines with tomatoes can be tricker than you might think and depends on the state of the tomatoes – ripe, juicy and uncooked or rich, concentrated and stewed.  Fresh tomatoes are acidic and require a wine that will match the acidity.  But, slow-roasted or sun-dried tomatoes have concentrated sugars and demand a different partner to enhance their flavors.
Here are some late summer favorites with pairing suggestions to help you make your wine choices: 
Tuscan bread salad is prepared in so many different ways, but the juice of the fresh tomatoes and vinegar dominate the base of the salad making acidity are the defining aspects of the salad regardless of its other ingredients.  Choose wines of equal brightness and acidity with enough fruitiness to compliment the tomato's vine-ripened richness. Dei Vino Nobile di Montalcino is a cellar staple for me and perfect for this dish.
One could argue a Caprese Salad reaches its absolute zenith during the late summer months (and remains on too many menus long after the vine ripened tomatoes have disappeared).  Basil and balsamic often dress this salad, but the original from the island of Capri features just sun-kissed ripe tomatoes, fresh mozzarella and sweet & peppery arugula drizzled with extra-virgin olive oil.  A crisp white Verdicchio from the Marche region of Italy lightens the cheese and olive oil while complimenting the peppery greens – Andrea Felici and Bisci are two quality producers.
Bacon Lettuce & Tomato:  American Classic
Deliciously crispy, salty bacon, deep red super ripe beefsteak tomatoes, creamy mayonnaise and crunchy lettuce on fresh, toasted bread …it doesn't get more summer delicious than that.  Let the bacon guide your choice – choose something that will stand up to the smoke but note overwhelm the other flavors.  A nice Cabernet Franc from the Loire Valley or keep it American with Jules Melange (Barrelhead Winegrowers, Napa Valley) and easy drinking Cabernet Franc blended with Cabernet Sauvignon and Syrah.
Slow-cooking tomatoes concentrates their sugar and mellows their acidity – combine them with caramelized onions, earthy, grill-charred eggplant, a dollop of ricotta and fresh cut basil and parsley and serve along-side a Rosso di Montalcino – like a Brunello with less age, the flavor of Rosso di Montalcino is rich and earthy paring delightfully with this dish.