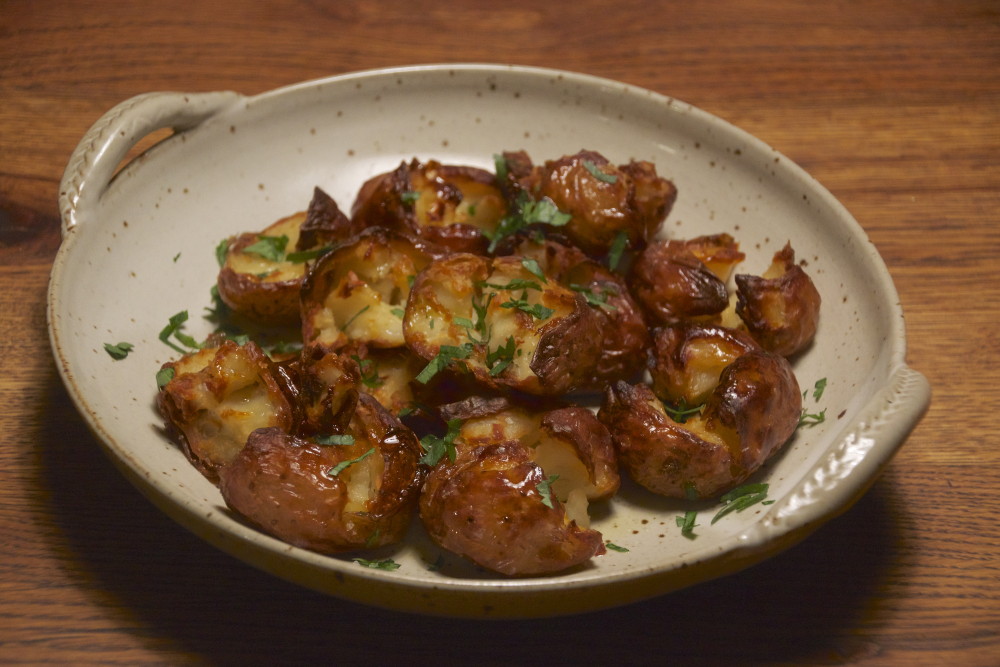 Crash Hot Potatoes
Everyone loves this side dish – prepare the potatoes ahead and warm them up just before serving, but don't leave them unattended in the kitchen - people will pop them in their mouths and they will disappear before dinner! Baby red potatoes are specified, but I have also used baby Yukon Gold – both great with summer barbequed food or a winter stew.
Ingredients
1 ½ lbs Baby Red Potatoes
Extra virgin olive oil
Sea salt
Garlic Powder
Onion Powder
2 tablespoons chopped herbs such as Parsley, Chive, Rosemary or Thyme
Instructions
Boil the potatoes in salted water until tender and a knife can pierce with ease – about 25 minutes. Drain and dry on towel.
Cover large baking sheet with foil and place the hot potatoes onto the sheet. Add olive oil and roll the potatoes to cover them in oil. Sprinkle with sea salt.
Using a potato masher with a square grid or a large fork, smash the center of each potato to open it slightly.
Brush each potato generously with olive oil, sprinkle lightly with garlic powder and onion powder.
Bake in preheated oven at 425° for about 25 minutes until the edges of the potatoes are crunchy and brown at the edges.
Garnish with chopped herbs.